The 345 m2 building was 3D printed by the leading Saudi Arabian real estate developer, Dar Al Arkan, using a COBOD 3D construction printer
The building has a total height of 9.9m and is therefore also the tallest on-site 3D printed building in the world
Low cost local materials were used at a cost of less than 10,000 euro to create the 3D printable concrete, which all of the walls of the 345 m2 building was printed with
The building was made without the use of a tent just after the summer in a a hot dessert where temperatures run as high as more than 40 degrees
Europe had it first, a 3D printed building of 3 floors made in Germany by PERI in 2021, and now Asia also has one. While North America may lead the development in terms of the amount of new 3D printed buildings, Europe and The Middle East is clearly leading the way in the use of the 3D construction printing technology to create larger and larger buildings. With its 9.9m in total height the villa in Saudi Arabia is the tallest on-site 3D printed building in the world.
Wael Al Hagen, 3D construction printing project manager from Dar Al Arkan said: "Our efforts are focused on developing the kingdom's real estate sector by integrating the latest trends and technologies, drawn from global best practices to enhance our industry locally and deliver on the objectives of vision 2030. The introduction of 3D construction printing enables us to focus on greater flexibility of design, strengthen productivity and achieve higher cost efficiency".
The first Dar Al Arkan project is a 3-story 345 m2 house, with a total height of 9.9 meters. The first floor has an area of 130 m2 which includes a spacious hall which has several living areas, a kitchen, and 2 toilets. The second floor is 140 m2 and has 3 bedrooms (one of which is a master bedroom) 2 bathrooms, a living room, and a balcony. The third floor is a roof annex which holds a maid's room with a bathroom, a multipurpose hall and a laundry room. In Saudi Arabi such a building, although it consists of 3 floors is referred to as a two story + annex, due to the third floor being somewhat smaller than the two first floors.
The project was executed using local materials and the D.fab solution developed by Cemex and COBOD. This solution allows COBOD customers to source 99% of the concrete materials locally, while only relying on 1% sourced from a central location. Less than 10,000 euro was spent for the printed materials.
Following the printing of the first villa, Dar Al Arkan has moved the printer to print another villa. Wael Al Hagen continued: "We are currently building the second villa, which will typically take a month to complete, but we've already finished the first floor of 130 m2 in only eight days. This 3D printed villa has additional insulation layers and features that ensure energy conservation, saving up to 30% in energy consumption. We urge all industry experts to visit us and view the first completed villa and the second under construction for themselves" noted Al Hagan.
The villa was printed in a dessert area without the use of a tent in August and September where temperatures run as high a more than 40 degrees in Saudi Arabia. Zaid Marmash, Head of Middle East & Africa for COBOD concluded: "The printing of the villa without the use of a tent shows the competence of the Dar Al Arkan team and their ability to handle our world class technology. They are pushing the boundaries for the future of construction. Printing with a COBOD 3D construction Printer, Dar Al Arkan proves how 3D printing buildings can be both very cost effective and time saving at the same time."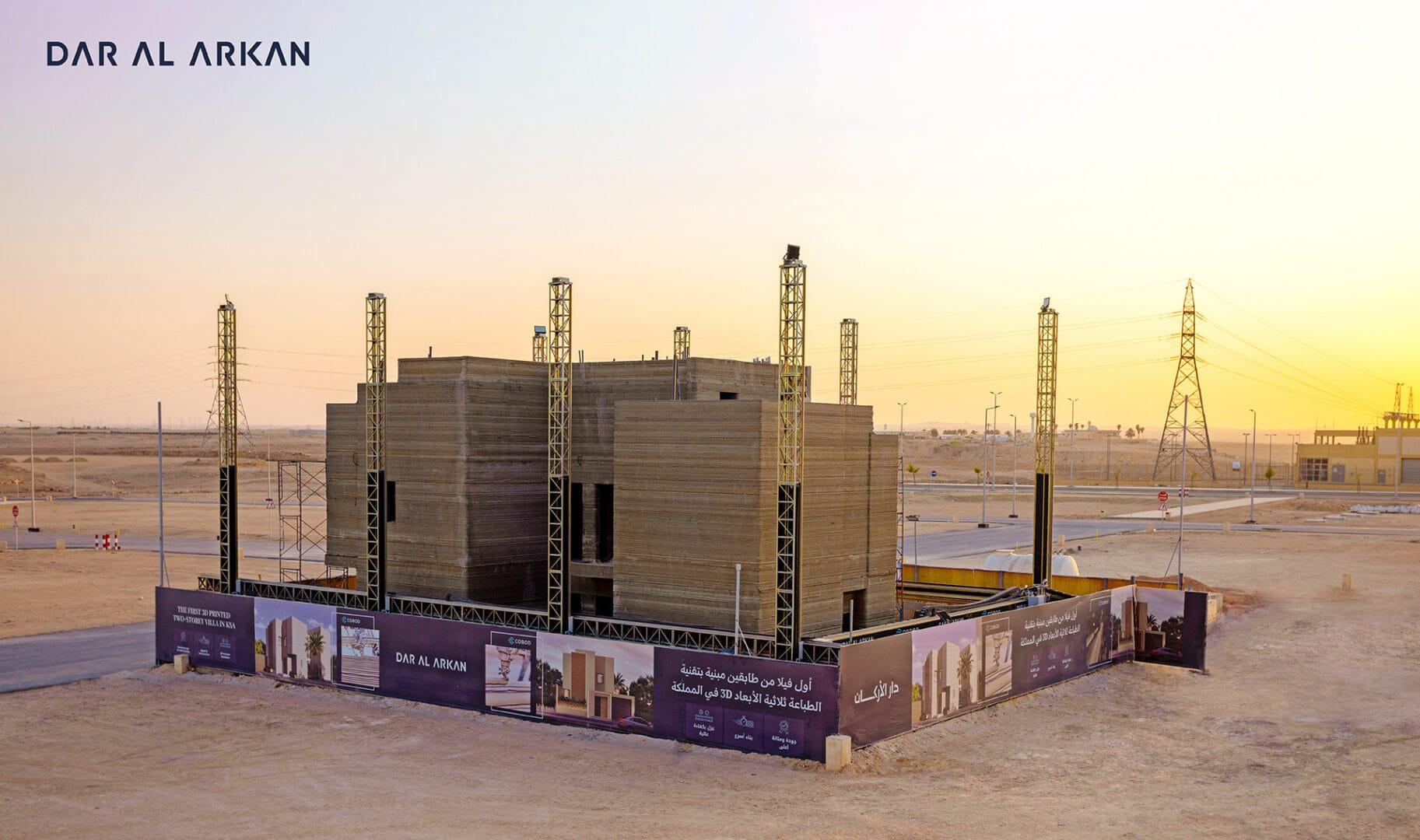 About Dar al Arkan
Dar Al Arkan is a real estate development company in the Kingdom of Saudi Arabia (KSA), The company specializes in the development of master planned lifestyle residential communities offering developed land parcels, apartments and villas, as well as the mixed-use real estate, which is part of large residential communities, such as retail and commercial buildings. As a result Dar Al Arkan has evolved into a fully fledged all round mixed use real estate developer.
Dar Al Arkan converted to a joint stock company in 2005. The founding shareholders currently own 81% of the Company, while 19% is held by other private investors. Recently, Dar Al Arkan achieved a 50% capital increase of SR3.6 Billion to jump up from SR 7.2 billion to an overall capital of SR10.8 Billion. The progression of Dar Al Arkan from a small real estate developer to one of the largest private sector providers of master-planned lifestyle communities in KSA is a result of consistent growth since its inception.
Dar Al-Arkan Real Estate Development took the first rank among Saudi real estate companies, and the fifth position in the Arab real estate sector on the list of Forbes' List Top 500 Companies."
About COBOD International
World leader in 3D construction printing solutions with +50 printers sold world-wide.
COBOD's mission is to build smarter through multifunctional construction robots based on 3D printing technology and COBOD's vision is to automate a minimum of 50% of construction processes on building sites. All leading to better, faster, cheaper, and more sustainable construction than conventional concrete. We constantly strive to reduce the CO2 footprint of 3D printed concrete.
COBOD's 3D printers made Europe's first building in 2017. Subsequently our printers made the first 2- and 3-story buildings in Europe (Belgium & Germany), North America (US & Canada) and India. Also, the first 3D printed villa in Dubai and buildings in Africa have been done by COBOD 3D construction printers, just like the first wind turbine bases.
COBOD has an open-source material strategy, partnering with customers, academic institutions, and suppliers around the world.
COBOD is privately owned by General Electric, CEMEX, Holcim and PERI as key shareholders, and our partners further include Dar Al Arkan (Saudi Arabia), L&T Construction (India), JGC (Japan), Siam Cement (Thailand) and Orascom (Egypt).
COBOD is headquartered in Denmark with regional offices and competence centers in Florida and Malaysia. Our team consists of +100 passionate pioneers from 25 nationalities and through our installed base of printers, we have a truly global presence in North- and Latin America, Europe, the Middle East, Africa, and Asia-Pacific.