Pantheon3D, a Youngstown-based additive manufacturing construction company, has received COBOD's BOD2 3D construction printer to The Ohio State University's Center for Design and Manufacturing Excellence (CDME) on January 6.
CDME collaborates with Pantheon 3D using COBOD technology to, among others, improve Ohio's portfolio of affordable housing. Pantheon3D aim to provide high schools, trade unions, and construction inspectors in Ohio access to cutting-edge research thanks to the alliance with CDME. This multidisciplinary research cooperation will involve testing, print demonstrations, student experiments, curriculum development for workforce development, and student learning.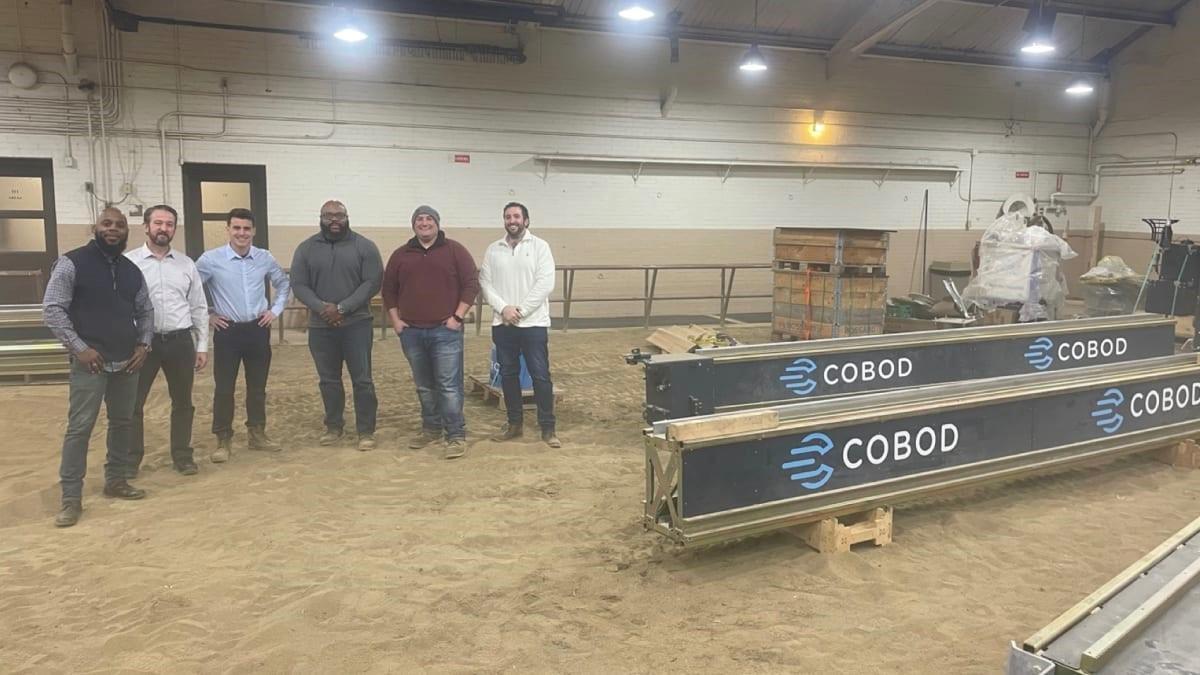 Ryan Kelly, a CEO of Pantheon3D, said: ''We are extremely excited for the opportunity to work with two amazing organizations like CDME and COBOD. The impact they both continue to on the additive manufacturing industry worldwide is amazing." He also added: "This partnership will help us create a model to reimagine, retrain and recruit the future construction workforce. We believe that is essential to Ohio's growing housing portfolio and, also further establishing Ohio as the home of innovation in the United States."
Vincent Albanese, Partnership Manager for COBOD International, said: "Using 3D printing to construct homes is a game-changer for the construction industry. We already have strong partnerships with universities worldwide, and supplying another 3D printer to a university, especially one with the size and credentials of OSU, further cements COBOD's position as industry leader in the 3D construction space.
According to Lisa Burris, Assistant Professor and Civil Materials Researcher at The Ohio State University, Ohio State University provides a unique environment in which the wide array of partners and experts necessary to rapidly improve and accelerate deployment of the 3D printed concrete technology to provide the greatest benefit to local.
To convert novel technology into products that are ready for the market, CDME collaborates with businesses and researchers. These initiatives provide student workers practical, hands-on experience integrating new technologies while giving clients the competitive edge they need in the workforce. These collaborations will also give graduate and undergraduate students exceptional chances to interact with professionals outside of their own fields of study and technical specialties, and they will teach them the value of forming diverse teams.
ABOUT CDME
CDME is one of the largest additive research groups in the United States with a mission to advance the manufacturing competitiveness of the United States.
CDME's vision is to improve national security by developing, demonstrating, and deploying advanced manufacturing technologies.
The Ohio State University's Center for Design and Manufacturing Excellence (CDME) works with companies and researchers to translate new technologies into real-world, market-ready manufactured products. These projects give student employees at CDME hands-on experience integrating new technology while providing our customers the workforce advantage necessary to compete in a global marketplace. The center executes this innovative approach to technology translation and workforce development while shaping the national conversation on advanced manufacturing innovation.
ABOUT COBOD
We are world leader in 3D construction printing solutions with +65 printers sold world-wide.
COBOD's mission is to build smarter through multifunctional construction robots based on 3Dprinting technology and COBOD's vision is to automate minimum 50% of construction processes on building sites. All leading to better, faster, cheaper and more sustainable construction than conventional concrete. We constantly strive to reduce the co2 footprint of 3D printed concrete.
COBOD's 3D printers made Europe's first building in 2017. Subsequently our printers made the first 2- and 3-story buildings in Europe (Belgium & Germany), North America (US & Canada) and India. Also, the first 3D printed villa in Dubai and buildings in Africa have been done by COBOD 3D construction printers, just like the first wind turbine bases.
COBOD has an open-source material strategy, partnering with customers, academic institutions, and suppliers around the world.
COBOD is privately owned by General Electric, CEMEX, Holcim and PERI as key shareholders, and our partners further include Dar Al Arkan (Saudi Arabia), L&T Construction (India), JGC (Japan), Siam Cement (Thailand) and Orascom (Egypt).
COBOD is headquartered in Denmark with regional offices and competence centers in Florida and Malaysia. Our team consists of +100 passionate pioneers from 25 nationalities and through our installed base of printers, we have a truly global presence in North- and Latin America, Europe, the Middle East, Africa, and Asia-Pacific.
ABOUT Pantheon Innovative Builders
Pantheon Innovative Builders is a Youngstown, Ohio based construction company and is committed to providing innovative solutions to the challenges facing today's construction industry.These innovative technologies are an opportunity to reimagine, retrain, and recruit the future construction workforce. We are transforming the construction industry with partnerships between government, academia, nonprofit, and small business across the Midwest.