Cobod concrete piston pump E
The COBOD Concrete Piston Pump E is the electric version of our pump. The pump is part of our recommended material equipment for when wanting to print with locally sourced concrete.

The COBOD Mini Batch Plant prepares each material batch which is then delivered, through the discharge gate, to the pump's hopper. The hopper has a grid and a hopper-valve-agitator which contributes to keeping the material alive. The pump delivers the concrete material using a 2-cylinder hydraulic piston pump which is a high-pressure seal that reciprocates with the piston which is commonly used to physically move fluids and compress gases. The pump stops the material delivery, when the predefined material level is reached within the printhead (default 70%).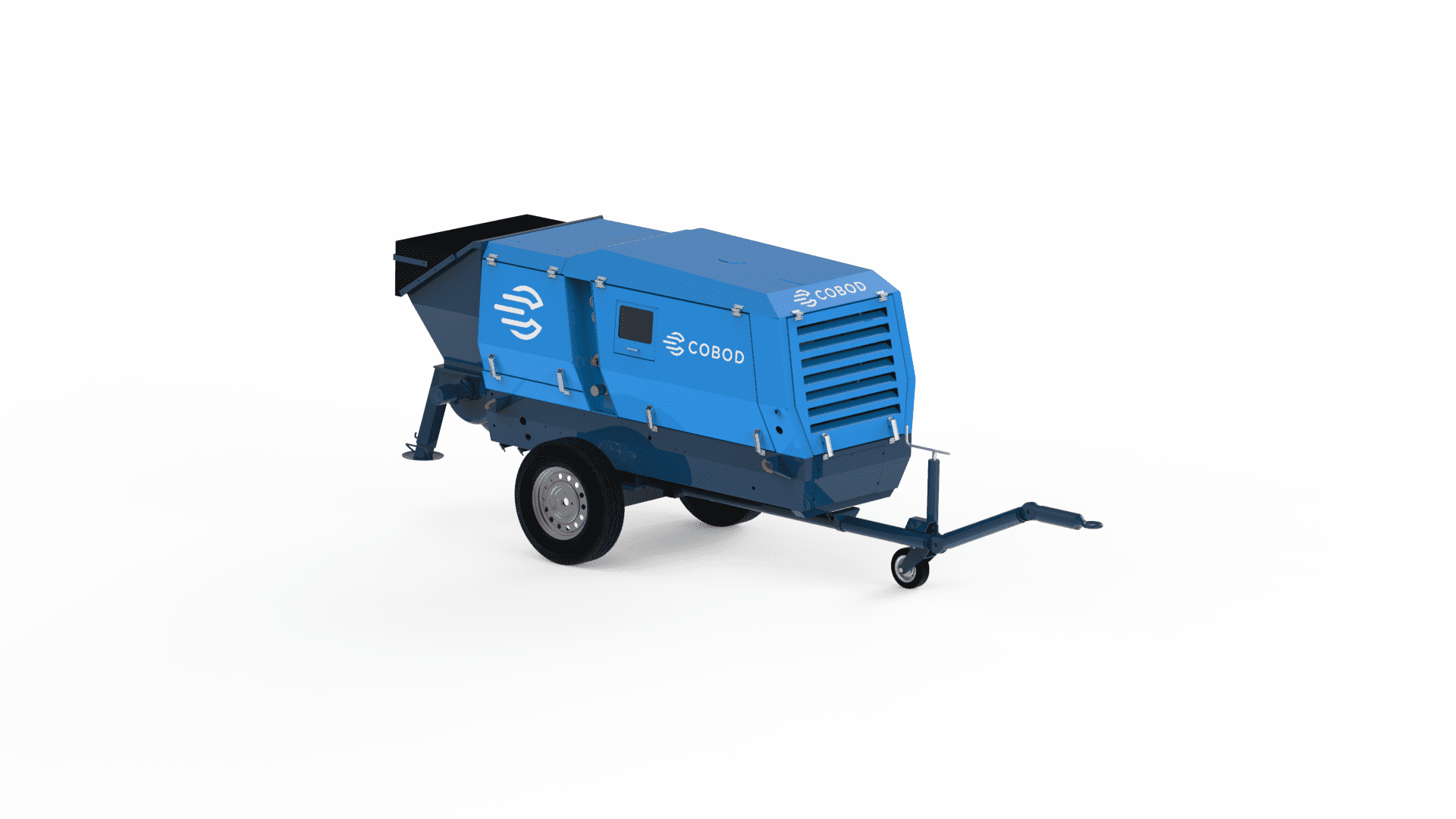 Technical specifications
Description
Unit
Value
Hopper volume
[L]
250
Capacity
[m3/h]
2-15
Electric motor output
[kW]
22
Power supply, voltage
[V]
400
Frequency
[Hz]
50
Max. aggregate size
[mm]
25
Max. working pressure
[bar]
80
Pumping cylinders
[mm]
Ø120 stroke of 700
Max. strokes
[no.]
30
Drive cylinder diameter
[mm]
80/50
Delivery manifold
[mm]
Ø100
Delivery distance
[m]
200
Delivery height
[m]
100
Filing height
[cm]
135
Chassis (manual draw-bar)
–
Fixed axle and
pneumatic wheels
Chassis (on-road towing)
–
With brakes and
suspension approved for
road use
Dimensions (W x H x L)
[cm]
150 x 160 x 336
Weight (draw-bar)
[kg]
1.550-1.600
Weight (on-road towing set up)
[kg]
1.700-1.750