Europe's first 3D printed public building and football clubhouse
Europe's first 3D printed public building and football clubhouse
330 m2 (3.550 SF) on 2 floors planned to be printed in 140 hours
Printed by a BOD2 3D construction printer from COBOD measuring 25 m (83 feet) in length, 15 m (50 feet) in width and 10 m (33 feet) in height
3D construction printing is spreading from low-rise residential housing to other buildings
Nordkirchen, Germany, July 4, 2023 – Leading the charge for using innovative building technology in the form of 3D construction printers, PERI 3D Construction is set to create Europe's first-ever 3D printed football club facility and public building. This initiative, located in Nordkirchen, Germany, exemplifies the transformative shift towards 3D construction printing in various sectors beyond residential construction.
Utilizing the largest printer configuration to date by PERI 3D Construction, a COBOD BOD2 model measuring 25 meters (83 feet) long, 15 meters (50 feet) wide, and 10 meters (33 feet) high, the future SC Capelle football clubhouse will boast a usable floor space of approximately 330 m2 (3.550 SF). The estimated completion time using 3D printing technology is projected to be only approximately 140 hours, highlighting the technology's potential for rapid, efficient, and sustainable construction.
Dr. Fabian Meyer-Brötz, Managing Director of PERI 3D Construction, stated: "In the face of significant challenges such as a skilled worker shortage and stagnating productivity in construction, 3D construction printing offers an urgently needed solution to build faster, cheaper, and with less material usage."
The unique design for the building is the creative work of Steinhoff Architekten, an innovative architectural firm known for embracing forward-thinking construction methods. The clubhouse will be used by SC Capelle playing in the third division in Germany.
Echoing PERI's statement, Henrik Lund-Nielsen, Founder and General Manager of COBOD International, shared his enthusiasm: "This new project by PERI is a great example of how our printers can be used for more than just low-rise housing. The new 3D printed building will be the first ever 3D printed football clubhouse and also the first public building that has ever been 3D printed. On top of the recently finished printing of the world's so far largest 3D printed building, a luxury horse staple in Florida of almost 1.000 m2 (10.100 SF), we are starting to see numerous examples of 3D printed non-residential buildings."
Mayor of Nordkirchen, Dietmar Bergmann commented on the project's significance, stating, "This initiative is a clear signal that small towns in rural regions can also drive innovations and future technologies. With the substantial financial support from the Ministry of Home Affairs of the State of North Rhine-Westphalia, and the expertise of our project partners, we are realizing a construction project in Nordkirchen that is attracting attention, not only locally but also on a broader scale."
This ground-breaking project sets the stage for the continued evolution of construction methodologies, proving that 3D construction printing is a viable option not just for low-rise housing, but for larger, more complex structures across various building sectors.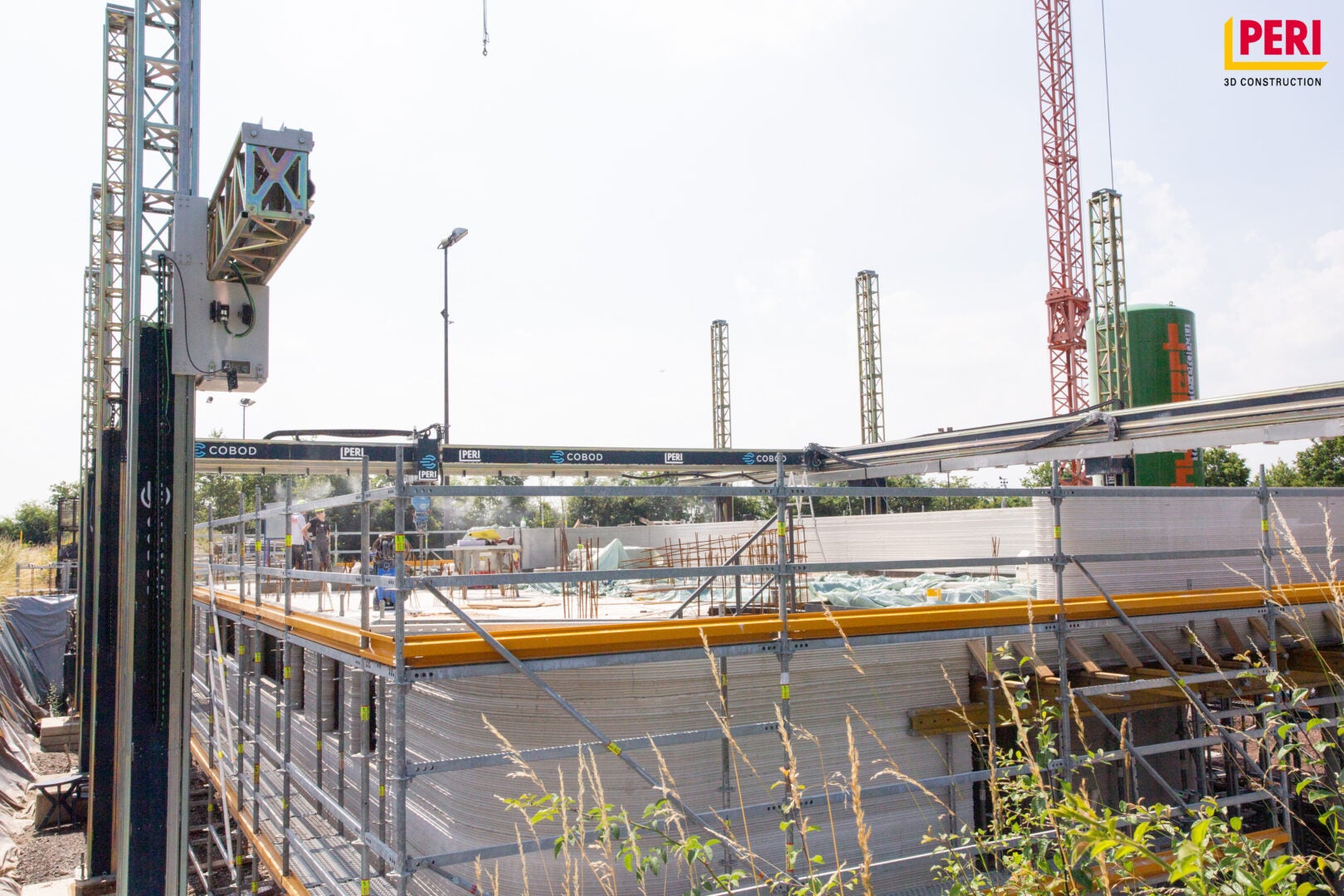 ABOUT COBOD
We are world leader in 3D construction printing solutions with +65 printers sold world-wide.
COBOD's mission is to build smarter through multifunctional construction robots based on 3Dprinting technology and COBOD's vision is to automate minimum 50% of construction processes on building sites. All leading to better, faster, cheaper and more sustainable construction than conventional concrete. We constantly strive to reduce the CO2 footprint of 3D printed concrete.
COBOD's 3D printers made Europe's first building in 2017. Subsequently our printers made the first 2- and 3-story buildings in Europe (Belgium & Germany), North America (US & Canada) and India. Also, the first 3D printed villa in Dubai and buildings in Africa have been done by COBOD 3D construction printers, just like the first wind turbine bases.
COBOD has an open-source material strategy, partnering with customers, academic institutions, and suppliers around the world.
COBOD is privately owned by General Electric, CEMEX, Holcim and PERI as key shareholders, and our partners further include Dar Al Arkan (Saudi Arabia), L&T Construction (India), JGC (Japan), Siam Cement (Thailand) and Orascom (Egypt).
COBOD is headquartered in Denmark with regional competence centres in Florida and Malaysia. Our team consists of +100 passionate pioneers from 25 nationalities and through our installed base of printers, we have a truly global presence in North- and Latin America, Europe, Middle East, Africa and Asia-Pacific.
ABOUT PERI GROUP
Founded in 1969, PERI is the world's leading manufacturer and supplier of formwork and scaffolding systems. In 2018 PERI Group acquired a minority shareholder in COBOD. Since then, both companies have worked closely together and pushed the boundaries of 3D construction printing. In 2020, using a COBOD BOD2, PERI released the first 3D-printed residential building in Germany and the biggest printed apartment building in Europe.