While the US and Canada have seen several 3D printed buildings in recent years, until now all of these have been single-story buildings. Now Canadian 3D construction printing company, nidus3D, is proving, that there is much more to 3D construction printing, than just smaller one-story houses. The completion of the printing of this 2-story 3D printed building in Ontario, marks the building as the first multi-story 3D printed building in North America.
Nidus3D used the BOD2 printer from COBOD, the world's leading company in 3D construction printing solutions, whose technology has already been proved in several countries and used to 3D print the first 2- and 3-story buildings in Europe. As another advantage of the COBOD 3D construction printer, the BOD2 can print with real concrete with a particle size up 10mm and 99% based on locally found raw materials. COBOD developed this low cost solution, which is called D.Fab in cooperation with the cement giant Cemex.
The 2-story house is the second structure nidus3D built, the first being earlier this summer 2022. The building will have a studio on the ground floor and a residence above, and the area of the building will be 2,300 square feet of mixed-use space. One of the new innovative methods nidus3D developed in the project was a 3D printed horizontal beam printed on site and lifted into place by a crane.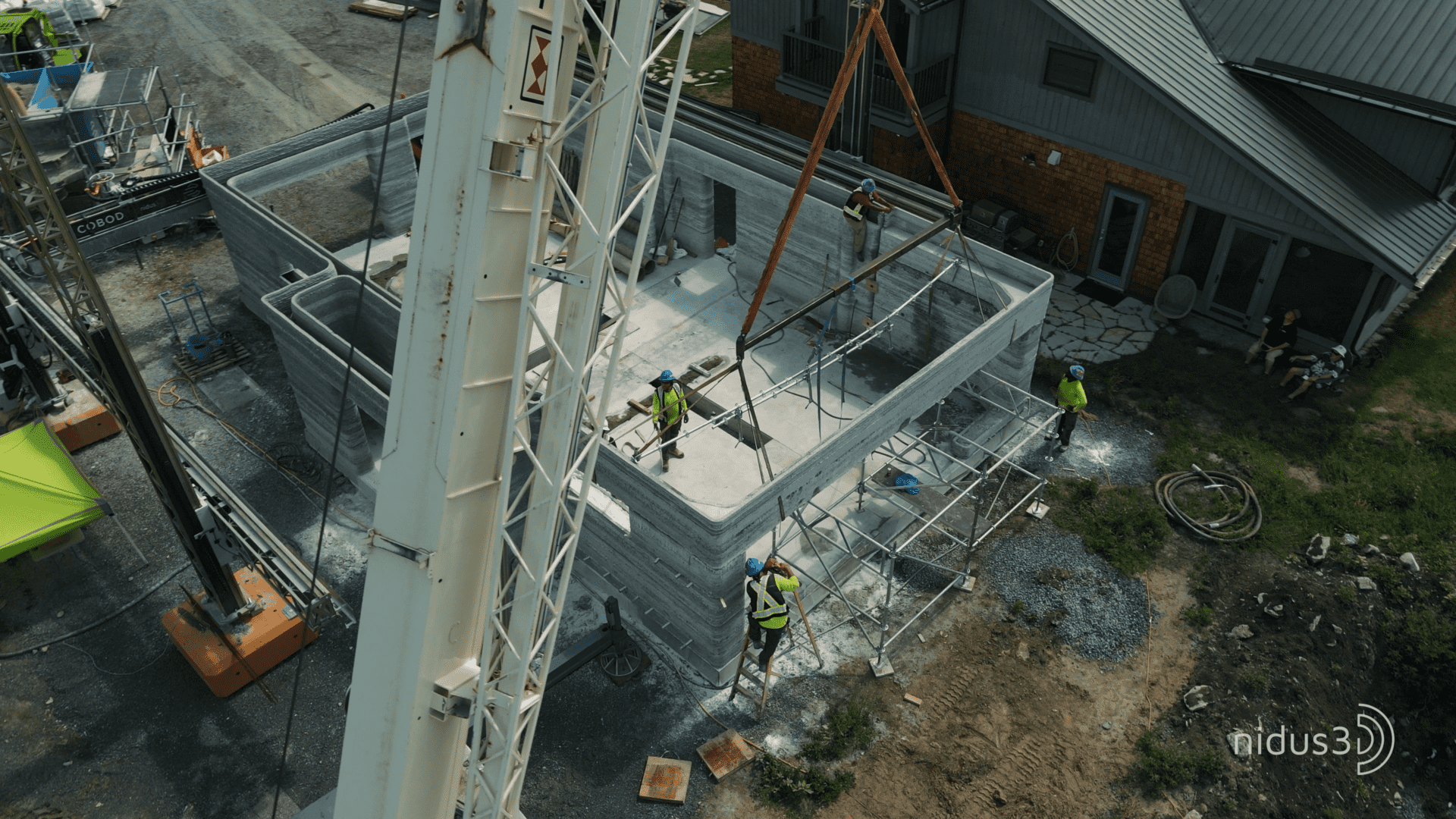 With the COBOD International 3D construction printing technology, nidus3D has set out to address the current housing gap in Canada. COBOD and nidus3D both believe this new way of building will be a game changer for the housing crisis.
"We have critical shortfall of skilled laborers, and a massive and growing demand for housing all across Canada," said Ian Arthur, one of the nidus3D founders and continued: "So, if we do not begin to look at new ways of building, we're never going to catch up. It is part of our core values, to seek solutions to address the housing crisis and to help build affordable housing with the help of 3D printing".
One of the many advantages of 3D concrete printed houses is that they can be built quickly. The complete building took only 80 hours to print, down from the 200 hours of the first building and nidus3D is convinced that future buildings will be made even faster.
Philip Lund-Nielsen, Co-Founder & Head of Americas at COBOD International said: "Our technology and 3D construction printers enables faster execution of construction projects, as well as more efficient construction at lower cost due to the lower labor requirements and usage of low-cost concrete. COBOD's 3D construction printers have been used all over the world, and while this two-story building in real concrete is a first and a great success for us in North America, the world-wide success of our technology proves the wide scale applicability of our technology."
About nidus3D
nidus3D is a strategic partner and distributor of COBOD BOD2 printers based out of Kingston, Ontario, Canada. With experience in construction, lean manufacturing, and public affairs, the team at nidus3D is actively deploying 3DCP technology to lower building costs and increase access to housing that is resilient, efficient, and sustainable, all while complying with Canadian building standards. Visit nidus3D.com for more information.