Emergent, a 3D printing company from California, has just completed and last week inaugurated the State's first fully code compliant 3D printed house at 1,200 SF (110 m2) using technology from COBOD International.
The house is one of multiple in a project seeking to alleviate housing challenges due to homeowners losing their properties to California forest fires.
REDDING, CA – July 20, 2023 – Emergent, a pioneer in advanced construction technology, proudly announces the completion of the first 3D Concrete Printed (3DCP) home in California. The event marks a significant milestone, with the property conforming fully to the
state's stringent building codes, the most rigorous in the United States, driven among other by regional seismic activity.
The landmark project at 1,200 SF (110 m2), unveiled in a ribbon-cutting ceremony near Redding's Reginato Boat Ramp last week, serves as an example of Emergent's commitment to revolutionizing construction techniques. Using COBOD's state-of-the-art 3D printing technology, the firm aims to create homes that are more durable, disaster-resilient and in tune with the surrounding environment.
"Emergent is not just changing how we build, but also how we live and work," said Joe Chimenti, Director of Community Development at Emergent. "We're preparing a new generation of tech-driven construction professionals, armed with the skills to reshape the industry."
The design of the Wildfire Restoration House, the inaugural Emergent Home, is the brainchild of Benjamin Albertson. This innovative architect envisioned a design that resonates with the countless homeowners who have lost their properties to the devastating forest fires prevalent in California and beyond.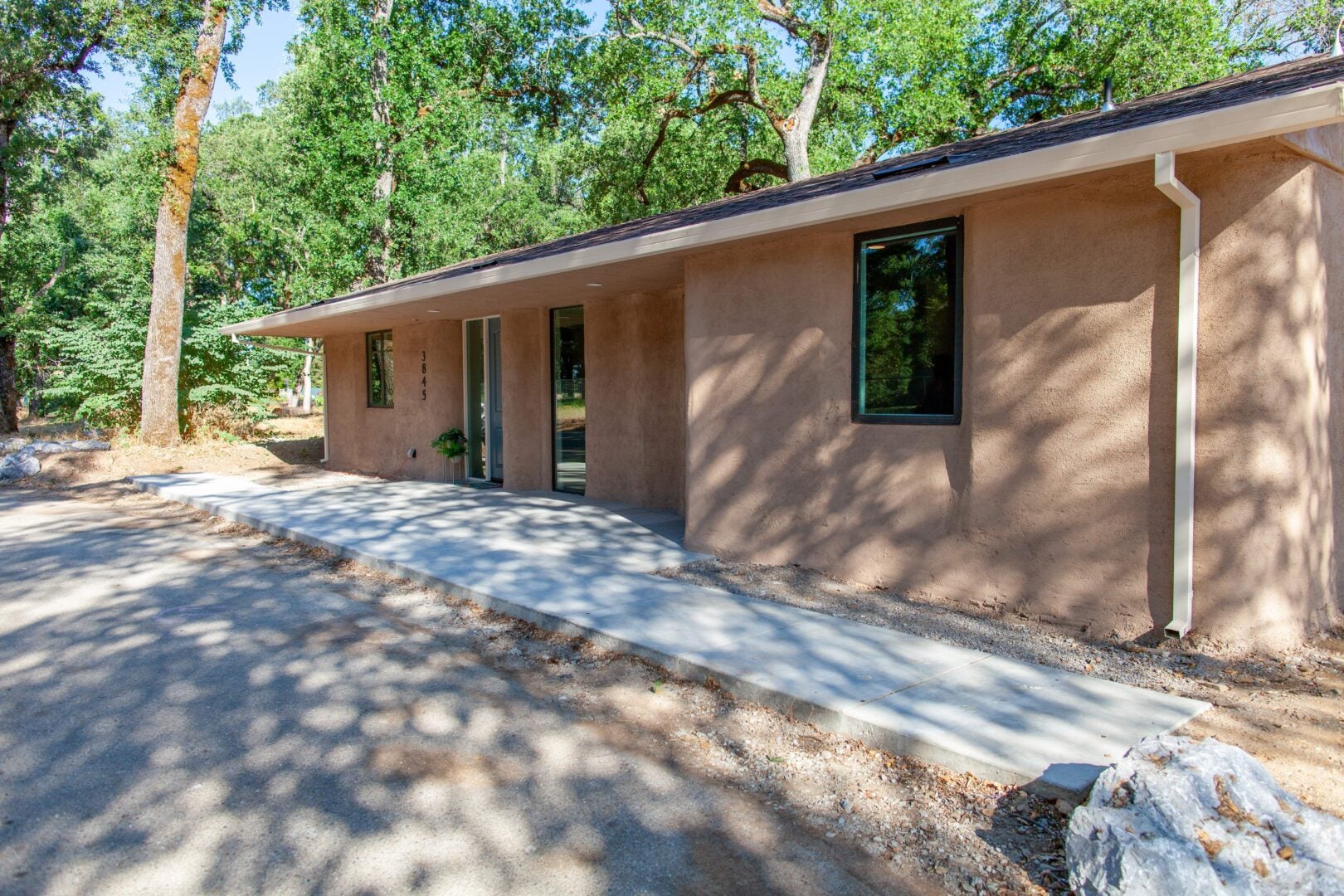 "These homes were once part of the Wildland Urban Interface, deeply connected to the forests surrounding them," explained Albertson. "Using COBOD's innovative 3D printers, we've created a home build in concrete that is not only more resilient to the wild-fires, but also maintains a beautiful connection to the natural landscapes. COBOD's 3D printing capabilities allowed for the creation of undulating, organic wall shapes. Paired with floor-to-ceiling windows, the design offers a stunning visual connection, akin to looking through the trees of a forest".
Emergent collaborated with AccessHome, the City of Redding, and Don Ajamian Construction to realize this project, aiming to alleviate housing challenges by providing this move-in-ready home to a deserving family.
Philip Lund-Nielsen, COBOD Co-Founder and Head of Americas, praised the achievement, stating: "We are incredibly proud that our technology contributed to creating a home compliant with California's strict building code. Emergent's success underscores that our technology is a tool, that helps to transform construction methods and meet rigorous standards, no matter how strict they area."With its headquarters in Redding, CA, Emergent continues to pioneer fire-resistant, eco-friendly residential and commercial construction. The company's solutions promise optimized construction processes and superior building capabilities, supporting community development across the globe.
ABOUT COBOD INTERNATIONAL
COBOD is the world's largest supplier of 3D printers for the construction industry with 70+ printers sold North- and Latin America, Europe, the Middle East, Africa and Asia-Pacific. COBOD's mission is to build smarter through multifunctional construction robots based on 3D printing technology and its vision to automate 50% of construction processes on building sites. All leading to faster, cheaper, more sustainable, and with more design freedom.
COBOD's 3D printers are used on all six habitable continents to create 1-, 2, and 3-story buildings incl. residential, commercial and office space, public buildings, schools, sports clubs, equestrian facilities, etc. In addition, the company's technology has been used to 3D print large-scale create data centers, wind turbine towers and more.
COBOD has an open-source material strategy and partners with customers, academic institutions and suppliers around the world. COBOD is privately owned by General Electric, CEMEX, Holcim, and PERI as key shareholders and is headquartered in Copenhagen (Denmark) with regional offices and competence centers in Miami, Florida (USA) and Kuala Lumpur (Malaysia). The team consists of +100 talents from 25 nationalities.
ABOUT EMERGENT
Emergent is revolutionizing the housing industry by blending old world elegance with cutting-edge innovations in construction technology. With a vision to restore hope and create a sustainable future, Emergent is harnessing the power of new world advancements to deliver homes that surpass traditional expectations. Explore how Emergent is reshaping the face of construction at https://www.emergent-3d.com/.