3D construction printing being used for much more than residential housing.
SCG, Siam Cement Group, has completed the first 3D printed medical center in the world using a BOD2 printer from COBOD
Located in Saraburi, Thailand, the new 2-story medical center is with 345m2 (3,712 SF) the largest 3D printed building in the ASEAN countries
The unique design stands out and have only been possible due to use of 3D construction printing
Siam Cement Group (SCG), the largest and the oldest cement and building material company in Thailand and Southeast Asia, has recently revealed the successful completion of the first 2-story 3D printed building in ASEAN. What is more striking is the fact, that the building is the first 3D printed medical center in the whole world.
The stunning two-story medical center located in Saraburi, Thailand, was constructed using a state-of-the-art COBOD BOD2 3D concrete printer. This groundbreaking project boasts a total floor area of 345 m2/3713,55 ft2 over 2 floors and is also the largest 3D printed building in the ASEAN countries.
The building immediately stands out on the horizon with its wavy walls. This design solution is made possible and was easy to implement thanks to the 3D construction printer and the design freedom it allows. Hence, the first 3D printed medical center features all benefits of the revolutionizing construction solution, specifically the free from design, increased building speed and reduced number of workers on site compared to conventional construction practices.
Simon Klint Bergh, COBOD Co-Founder and Head of APAC, commented: "Last year I was proud to announce our local partnership with SCG for introducing our technology to the Thai market. Now, the SCG team has truly shown the whole world, why they are the right partner with this fantastic accomplishment of printing a design-free structure like this. With this SCG is setting new standards for what can be done and showing the way for the market."
SCG now offers the market the chance to increase the construction efficiency, reduce the environmental footprint by generating less waste on the construction site, while improving the design. As an official distributor of COBOD in Thailand, SCG promotes the value of the innovative technology, which offers a range of benefits over traditional construction methods. The building was specifically designed to support seismic loads, and the use of 3D printing technology increased construction speed and reduced the amount of labor required compared to conventional building methods.
In other countries, 3D construction printing is primarily used for one story residential housing, but as the new building by SCG shows, COBOD's technology is capable of delivering much more than that. In Africa printers from COBOD have been used for making schools, JGC in Japan is using the printer for various industrial applications, while PERI in Austria has used the technology for an office extension.
Commenting on SCG's use of the printer and the plans for the future, Mr. Chalermwut Snguanyat, 3D printing & fabric concrete technology director from SCG said: "Besides demonstrating SCG capability to build a two-story commercial building using the COBOD printer, the project's highlight was to implement our research on a 3D printed structure. In this building, we successfully implemented results from our collaborative studies with top-tier universities in Thailand for constructing a one-story 3D printed load-bearing structure and a two-story 3D printed non-load bearing structure. The design of the 3D printed medical center was approved by a senior professional engineer. The materials used in this building were SCG 3D printing mortars with strength classes of C75/80 and C30/35 for load-bearing and non-load-bearing 3D printed walls, respectively. As CPAC 3D printing solution under the SCG cement company umbrella, we aim to create best practices and standards for 3D printing construction. Moreover, our commitment is to help the construction industry become more sustainable and carbon-neutral through innovation and technology".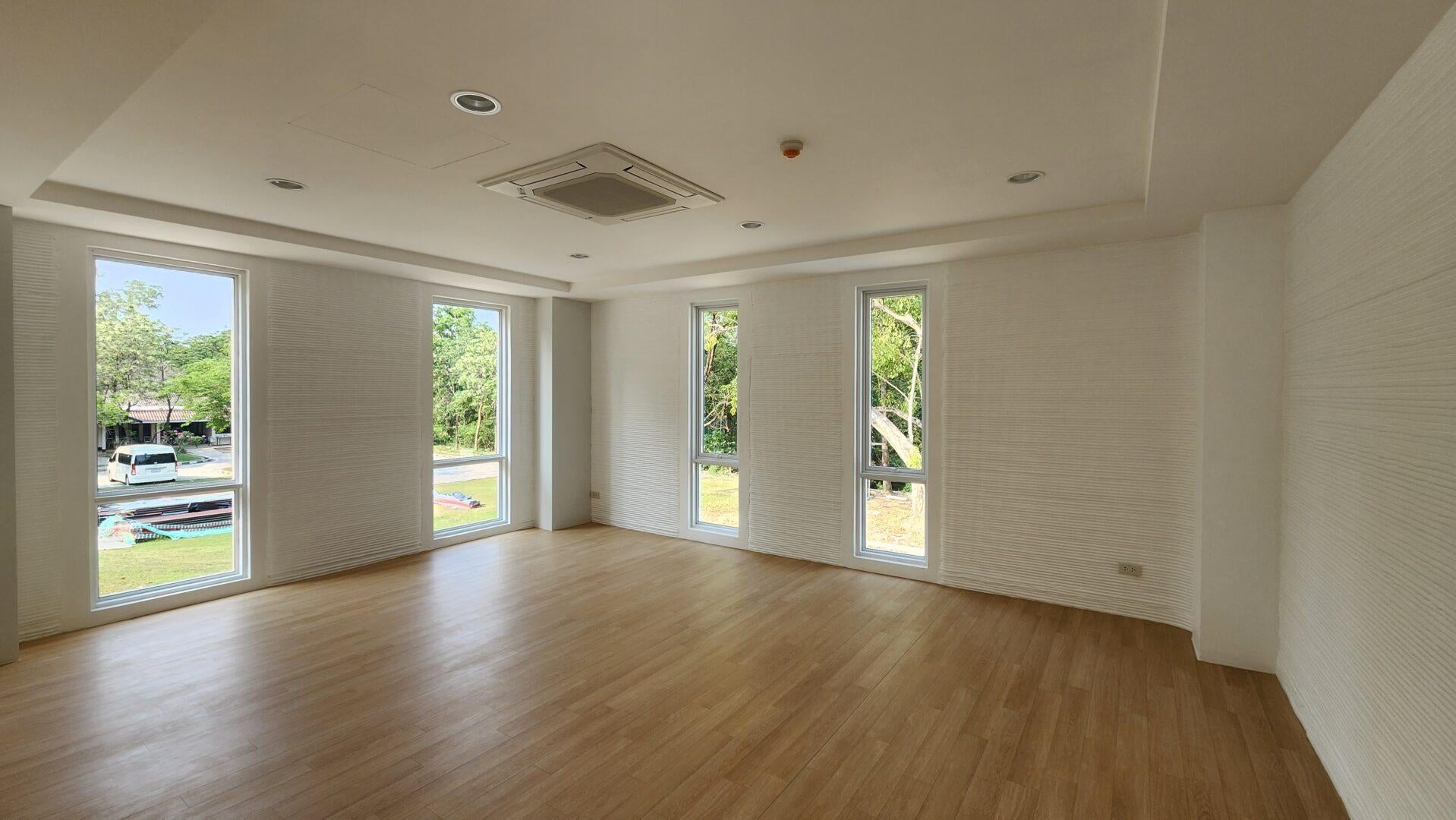 ABOUT COBOD
We are world leader in 3D construction printing solutions with +65 printers sold world-wide.
COBOD's mission is to build smarter through multifunctional construction robots based on 3Dprinting technology and COBOD's vision is to automate minimum 50% of construction processes on building sites. All leading to better, faster, cheaper and more sustainable construction than conventional concrete. We constantly strive to reduce the co2 footprint of 3D printed concrete.
COBOD's 3D printers made Europe's first building in 2017. Subsequently our printers made the first 2- and 3-story buildings in Europe (Belgium & Germany), North America (US & Canada) and India. Also, the first 3D printed villa in Dubai and buildings in Africa have been done by COBOD 3D construction printers, just like the first wind turbine bases.
COBOD has an open-source material strategy, partnering with customers, academic institutions, and suppliers around the world.
COBOD is privately owned by General Electric, CEMEX, Holcim and PERI as key shareholders, and our partners further include Dar Al Arkan (Saudi Arabia), L&T Construction (India), JGC (Japan), Siam Cement (Thailand) and Orascom (Egypt).
COBOD is headquartered in Denmark with regional offices and competence centers in Florida and Malaysia. Our team consists of +100 passionate pioneers from 25 nationalities and through our installed base of printers, we have a truly global presence in North- and Latin America, Europe, the Middle East, Africa, and Asia-Pacific.
ABOUT SCG
Wholly-owned and established by SCG in 1978, SCG International is a subsidiary of SCG under the Cement-Building Materials business unit. SCG is the leader in production of cement and construction in Southeast Asia. Partnering with COBOD, SCG International will become the exclusive distributor of 3D construction printers in the region.