Europe's largest 3D printed building is being constructed by PERI in the city of Heidelberg, Germany, with COBOD's BOD2 printer.
The building is almost 600 m2 (6600 sft), 54m (162 ft) long, 11m (121 ft) wide and 9m (30 ft) high and contains an IT server hotel
The project is made for Heidelberg IT Management GmbH & Co. KG, a cloud & data center provider.
Europe's largest 3D printed building is initiated by KRAUSGRUPPE, a project developer, builder, investor, real estate manager, and broker in the Heidelberg area. The city has always been at the forefront of innovation as it is a city of science. Now, that the Campbell Barracks have been renovated, the city will have a ground-breaking testament of 3D construction printing technology that will revolutionize the building sector. This ground-breaking project is being built for Heidelberg IT Management GmbH & Co. KG, a cloud and data center provider.
The building is approximately 54m long, 11m wide and 9m high. The construction process started 31st of March and is expected to be completed by the end of July 2023. It will serve as an IT server hotel, and is set to become one of the most technologically advanced and innovative buildings in the region.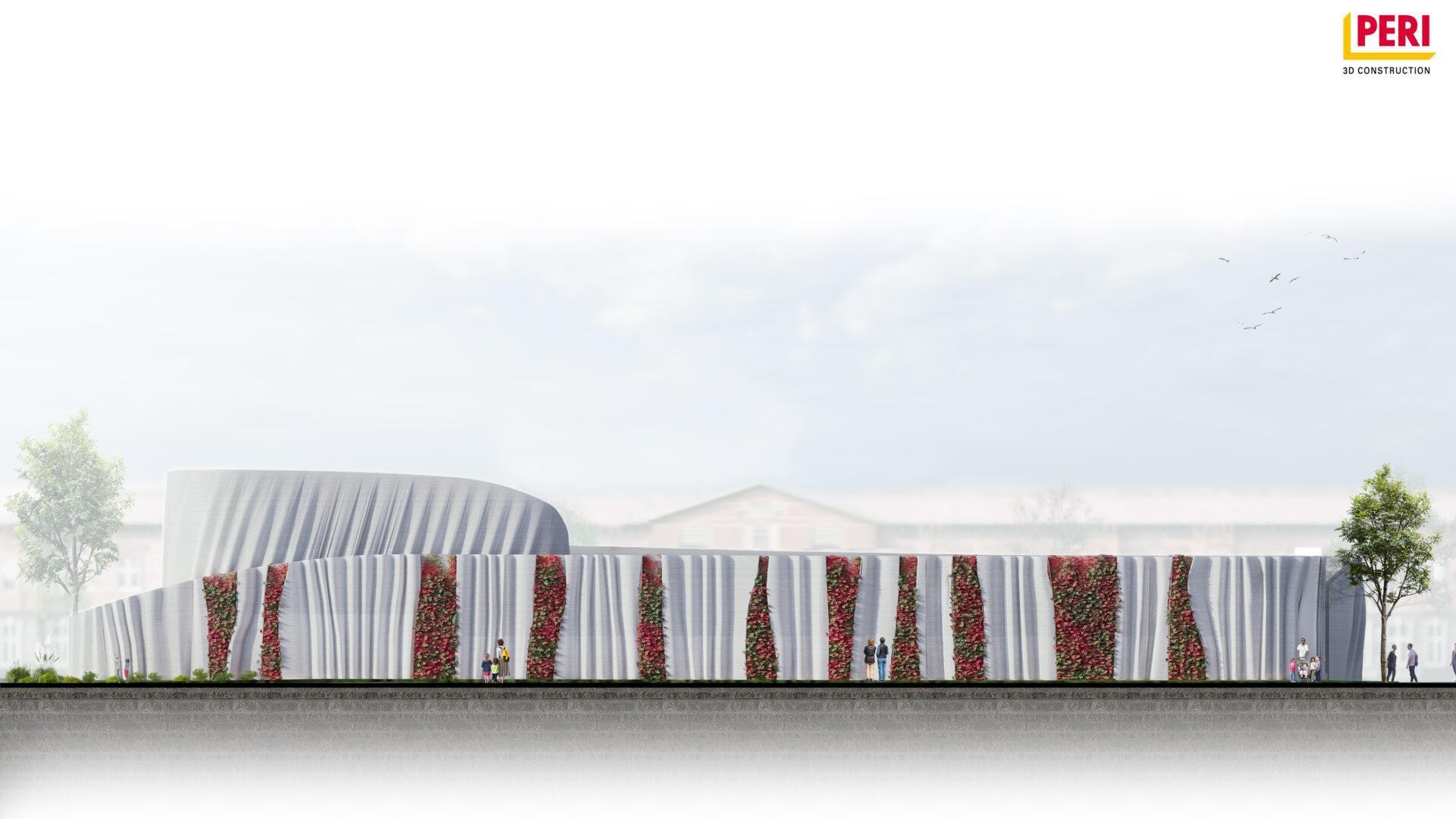 Hans-Jörg Kraus, managing partner of the KRAUSGRUPPE, said: "As an independent family business with a long tradition and a future ahead, we want to promote innovative construction methods in Heidelberg and make a positive contribution to sustainable building methods".
PERI 3D Construction, a pioneer in 3D construction printing industry, is providing the know-how for the 3D printing process, and is using COBOD's BOD2 3D construction printer to print the walls of the building. PERI is taking advantage of the high printing speeds of the printer, and plans to complete the printing of the walls of this large-scale project in just 140 hours, equivalent to printing 4 square meter of building per hour.
The architects from SSV Architekten and Mense Korte, who collaborated on the project, devoted a lot of attention to the design of the walls, which is very unique as seen in the renderings of the server hotel. Dr. Fabian Meyer-Brötz, Managing Director of PERI 3D Construction GmbH, commented: ". Based on parametric design, the special wall design used in the building documents the immense design freedom, that the COBOD BOD2 3D printer enables. We are very proud to be able to realize our largest building to date with this project"
Henrik Lund-Nielsen, Founder & General Manager of COBOD added: "In this unique project PERI is emphasizing two of the key benefits of 3D construction printing; speed of execution and design freedom. Because of this our technology is capable of carrying out everything from materials savings windmill towers over low cost residential housing in Africa to architectural office type buildings in Germany."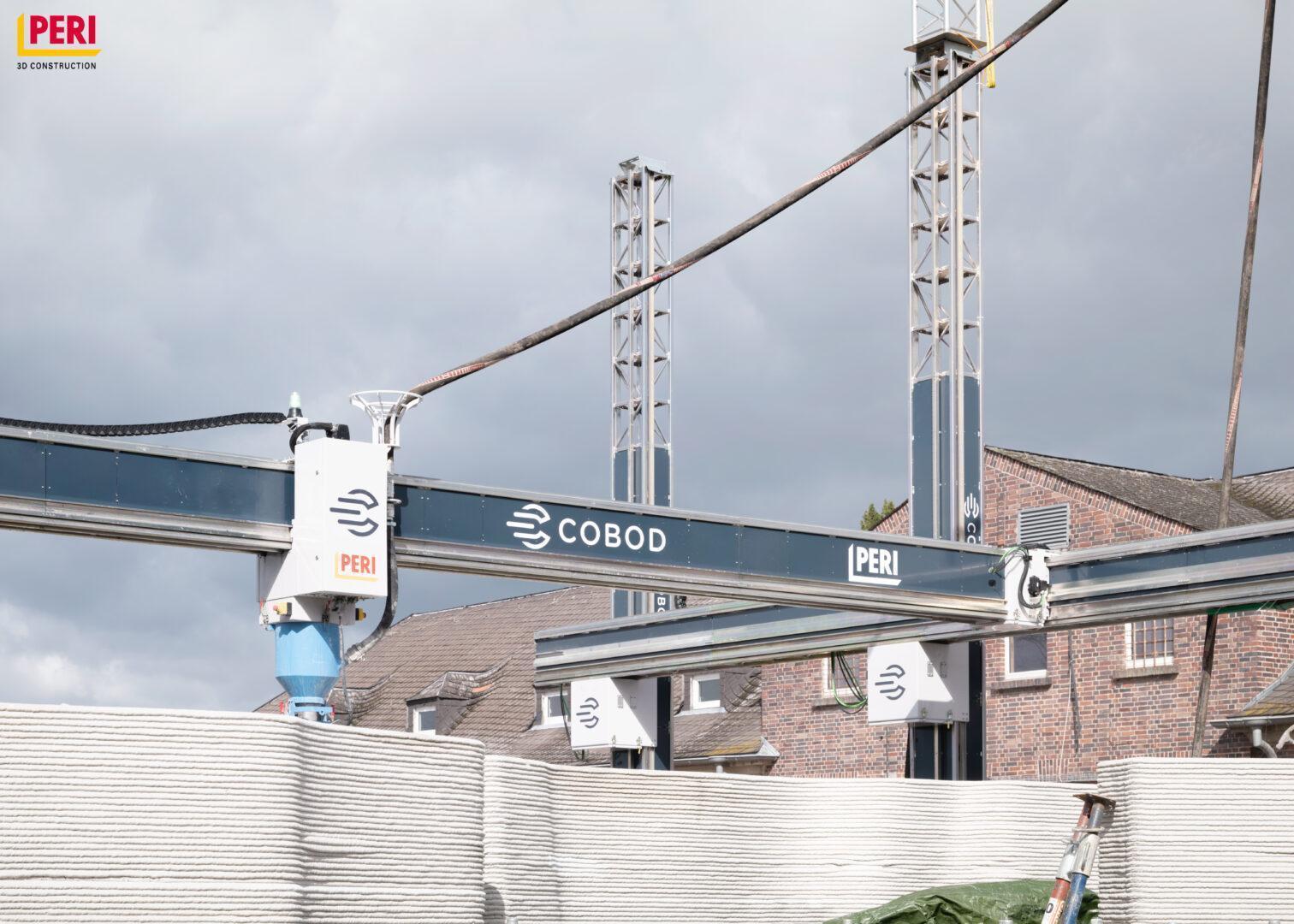 * Please note that all media usage should include proper references. The renderings should be referenced as "SSV Architekten", "PERI" and the drone shots as "KRAUS GRUPPE". Thank you.
ABOUT COBOD
We are world leader in 3D construction printing solutions with +65 printers sold world-wide.
COBOD's mission is to build smarter through multifunctional construction robots based on 3Dprinting technology and COBOD's vision is to automate minimum 50% of construction processes on building sites. All leading to better, faster, cheaper and more sustainable construction than conventional concrete. We constantly strive to reduce the co2 footprint of 3D printed concrete.
COBOD's 3D printers made Europe's first building in 2017. Subsequently our printers made the first 2- and 3-story buildings in Europe (Belgium & Germany), North America (US & Canada) and India. Also, the first 3D printed villa in Dubai and buildings in Africa have been done by COBOD 3D construction printers, just like the first wind turbine bases.
COBOD has an open-source material strategy, partnering with customers, academic institutions, and suppliers around the world.
COBOD is privately owned by General Electric, CEMEX, Holcim and PERI as key shareholders, and our partners further include Dar Al Arkan (Saudi Arabia), L&T Construction (India), JGC (Japan), Siam Cement (Thailand) and Orascom (Egypt).
COBOD is headquartered in Denmark with regional offices and competence centers in Florida and Malaysia. Our team consists of +100 passionate pioneers from 25 nationalities and through our installed base of printers, we have a truly global presence in North- and Latin America, Europe, the Middle East, Africa, and Asia-Pacific.
ABOUT PERI GROUP
Founded in 1969, PERI is the world's leading manufacturer and supplier of formwork and scaffolding systems. In 2018 PERI Group acquired a minority stake in COBOD. Since then, both companies have worked closely together and pushed the boundaries of 3D construction printing. In 2020, using a COBOD BOD 2, PERI realized the first 3D-printed residential building in Germany and the biggest printed apartment building in Europe.