COPENHAGEN, June 29, 2023 — COBOD, the Denmark-based global leading 3D construction printing provider, has publicly unveiled its 2022 Annual Report, showcasing the company's impressive financial performance and strategic expansions despite global economic fluctuations.
In line with Denmark's corporate transparency laws, the report, published by the unlisted company, reveals insightful financial details. Despite the global chaos caused by the outbreak of the war in Ukraine and subsequent economic turbulence, COBOD experienced robust growth of 40%, pushing its sales from €11 million to nearly €16 million.
COBOD further underscored its robust and financially sound business model, being profitable for the fourth year in a row, with profits of almost €1 million. The company continues to differentiate itself by concentrating on the development and sales of cutting-edge 3D construction printers, leaving the execution of construction projects to its global network of clients, distributors, and partners, a strategy that has clearly borne fruit.
In 2022, COBOD fortified its alliances by inviting industry titans General Electric, Holcim, and Cemex into its shareholders' circle alongside PERI. Joint ventures were also forged with Egyptian construction powerhouse Orascom and Indonesia's Bakrie Group, reflecting COBOD's commitment to a partnership model.
COBOD further expanded its global footprint by launching regional competence centers and offices in Miami, USA, and Kuala Lumpur, Malaysia, effectively broadening its services to encompass the Americas, Asia, and Australia. Future plans include the establishment of a new regional hub in Dubai to service the Middle East and Africa, while Europe will continue to be served from its Copenhagen base.
Henrik Lund-Nielsen, Founder and General Manager of COBOD, shared: "Throughout 2022, COBOD solidified its lead in 3D construction printer sales, outperforming all other suppliers, just as in previous years. Since the advent of 3D construction printers, COBOD has sold more printers than all other suppliers. Combined!"
This market dominance is clearly reflected in the number of 3D printed buildings worldwide. COBOD's 3D printers have been involved in the creation of 52 different buildings globally by the end of 2022, accounting for approximately 40% of the world's 130 3D printed structures. This dominance was even more pronounced in 2022, with COBOD's 3D printers contributing to the construction of 31 out of the 55 new 3D printed buildings, nearly 60% of all new 3D printed buildings made that year.
Lund-Nielsen concluded his remarks by stating, "With the recent unveiling of the nearly 1,000 m² luxury horse stable by Printed Farms, Florida, COBOD doesn't just lead in the sales of printers and in the amount of 3D printed projects, but now also holds all relevant 3D construction printing records. Our printers have constructed the world's largest 3D printed building, the fastest build (three buildings in eight days by GUtech, Oman), and the tallest structure (a three-story villa standing at 9.9 meters by Dar Al Arkan, Saudi Arabia)."
COBOD's impressive 2022 performance, as seen in its financial results, global expansion, and industry records, signifies the company's dedication to driving innovation and collaboration in the construction industry, revolutionizing the way buildings are constructed worldwide.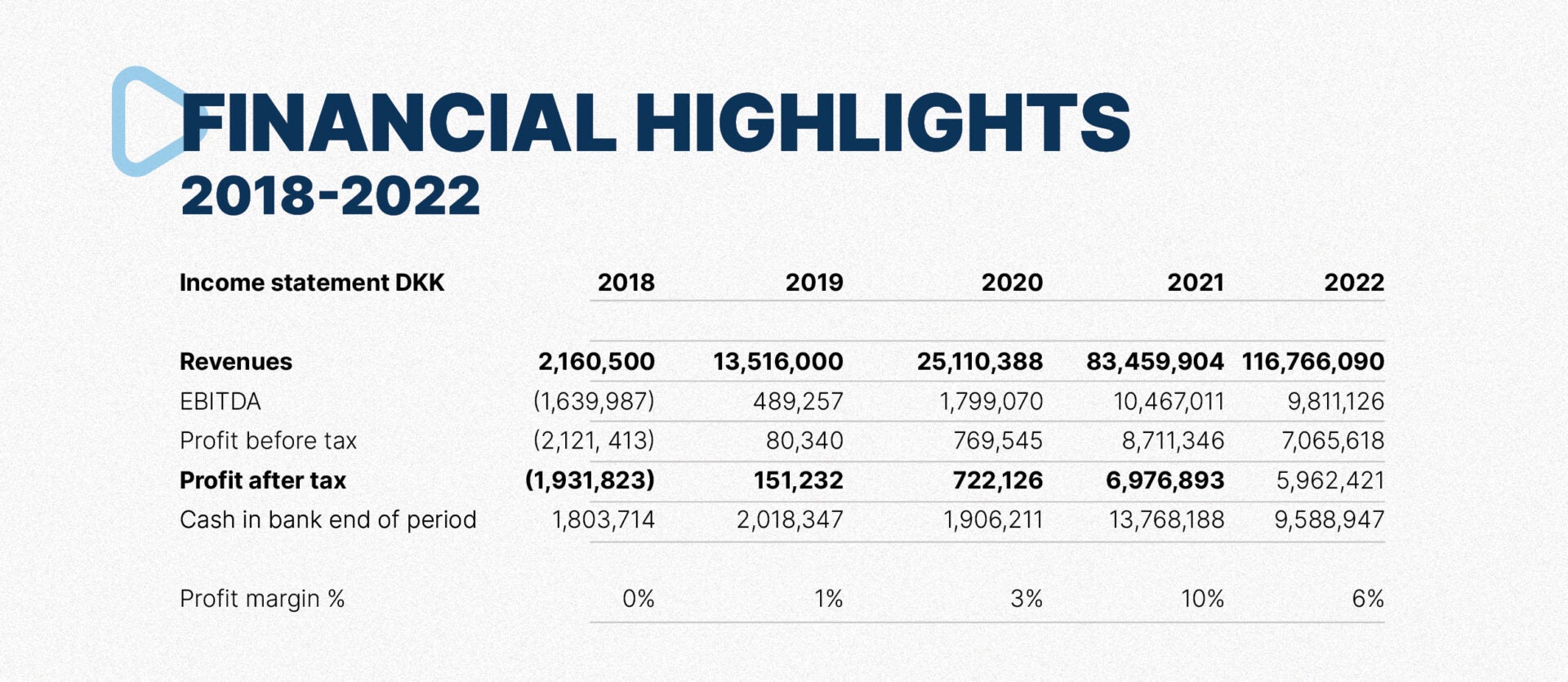 ABOUT COBOD
We are world leader in 3D construction printing solutions with +65 printers sold world-wide.
COBOD's mission is to build smarter through multifunctional construction robots based on 3Dprinting technology and COBOD's vision is to automate minimum 50% of construction processes on building sites. All leading to better, faster, cheaper and more sustainable construction than conventional concrete. We constantly strive to reduce the co2 footprint of 3D printed concrete.
COBOD's 3D printers made Europe's first building in 2017. Subsequently our printers made the first 2- and 3-story buildings in Europe (Belgium & Germany), North America (US & Canada) and India. Also, the first 3D printed villa in Dubai and buildings in Africa have been done by COBOD 3D construction printers, just like the first wind turbine bases.
COBOD has an open-source material strategy, partnering with customers, academic institutions, and suppliers around the world.
COBOD is privately owned by General Electric, CEMEX, Holcim and PERI as key shareholders, and our partners further include Dar Al Arkan (Saudi Arabia), L&T Construction (India), JGC (Japan), Siam Cement (Thailand) and Orascom (Egypt).
COBOD is headquartered in Denmark with regional offices and competence centers in Florida and Malaysia. Our team consists of +100 passionate pioneers from 25 nationalities and through our installed base of printers, we have a truly global presence in North- and Latin America, Europe, the Middle East, Africa, and Asia-Pacific.