COBOD has launched a VR solution for 3D construction printing, allowing people to experience live 3D printing in virtual reality.
The VR solution offers a realistic experience, allowing individuals to watch COBOD's real printed buildings being constructed in a virtual residential area.
COBOD will present the VR solution at UK Construction Week, London, from May 2-4 at booth F510, alongside UK Partner Harcourt Technologies Ltd (HTL).
COBOD, the leading global manufacturer of 3D construction printers, is pleased to announce the launch of its unique Virtual Reality (VR) solution for 3D construction printing. This innovative solution allows potential customers to experience live 3D construction printing in real-time, right in front of their eyes in virtual reality.
At many occasions, it is not practical or convenient for people to experience real-time printing of buildings due to their location or timing. With COBOD's new VR solution, individuals can watch many of the company's real printed buildings being constructed in a virtual residential area, complete with trees, cars, and other objects, for an even more realistic experience.
With the help of technology, people get into the heart of an already well-known and widely used program, the COBOD Configurator. Virtual Reality helps people experience the real size of a 3D concrete printer in different configurations. Also, individuals can witness close up of the gantry printer work and see how layer by layer the house is created.
Michael Holm, Chief Innovation Officer at COBOD, commented on the launch: "As the creator of this VR system, I'm thrilled to offer an immersive experience that brings our 3D construction printers to life. This technology enables clients to truly understand the scale and potential of our printers, empowering them to envision a more innovative and sustainable future for the construction industry."
COBOD will be presenting this new VR solution at the UK's largest built environment event, UK Construction Week, in London from May 2nd to May 4th. Attendees can visit the company's booth F510 and try out the VR solution for themselves.
Additionally, COBOD together with their UK Partner Harcourt Technologies Ltd (HTL) will be warming up for the big LIVE printing with a real D.fab concrete solution being batched , developed in collaboration with the leading cement manufacturer CEMEX, for the first time at the UK Construction Week in Birmingham from October 3rd to October 5th 2023. Attendees can witness the batching process with the batch plant outside, and the printer inside printing at an expo area of 10×5 meters.
Dr. Marchant Van Den Heever, CTO of HTL.tech, said: "Don't miss out on this exciting opportunity to experience COBOD's new VR solution. Virtual reality is an incredibly powerful tool for visualizing complex 3D models, and using it to showcase 3D construction printing projects can help clients understand the process in a more immersive and engaging way. We see this tool as an exciting way the get clients, designers, and contractors up to speed on the inner workings of how a 3D construction printing project actually works."
Visit the company's booth F510 at the UK Construction Week in London from May 2nd to May 4th or witness the live printing of D.fab at the UK Construction Week in Birmingham from October 3rd to October 5th and come and see what the future of construction looks like. We look forward to engaging with everyone.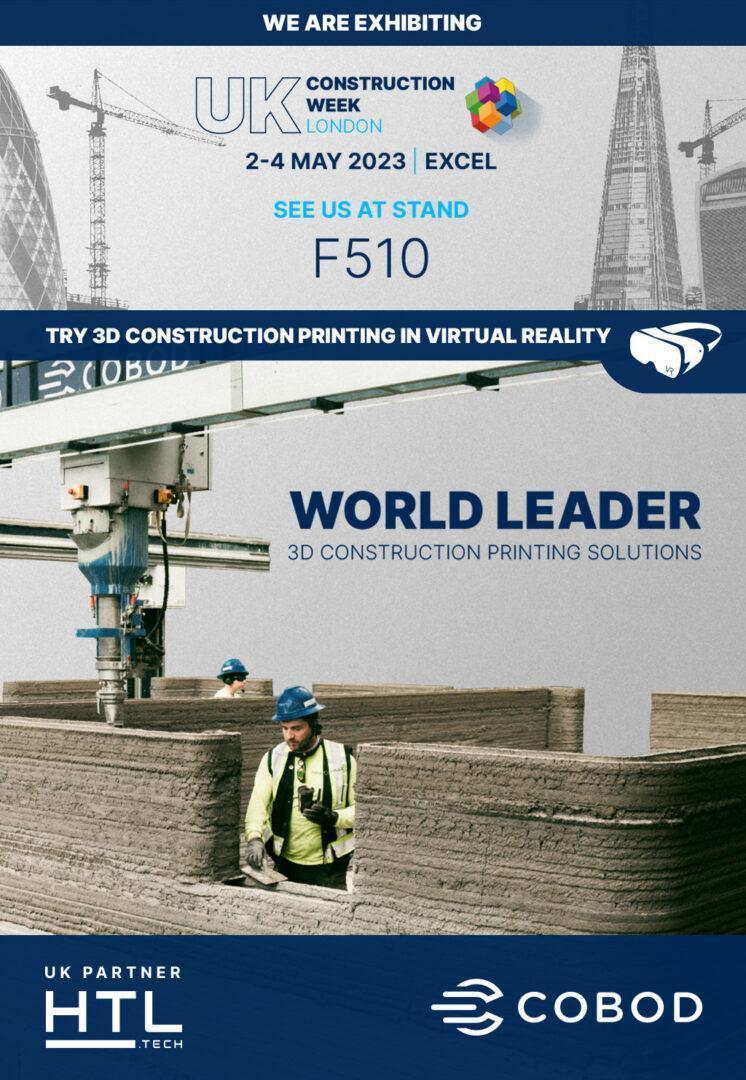 ABOUT COBOD
We are world leader in 3D construction printing solutions with +65 printers sold world-wide.
COBOD's mission is to build smarter through multifunctional construction robots based on 3Dprinting technology and COBOD's vision is to automate minimum 50% of construction processes on building sites. All leading to better, faster, cheaper and more sustainable construction than conventional concrete. We constantly strive to reduce the co2 footprint of 3D printed concrete.
COBOD's 3D printers made Europe's first building in 2017. Subsequently our printers made the first 2- and 3-story buildings in Europe (Belgium & Germany), North America (US & Canada) and India. Also, the first 3D printed villa in Dubai and buildings in Africa have been done by COBOD 3D construction printers, just like the first wind turbine bases.
COBOD has an open-source material strategy, partnering with customers, academic institutions, and suppliers around the world.
COBOD is privately owned by General Electric, CEMEX, Holcim and PERI as key shareholders, and our partners further include Dar Al Arkan (Saudi Arabia), L&T Construction (India), JGC (Japan), Siam Cement (Thailand) and Orascom (Egypt).
COBOD is headquartered in Denmark with regional offices and competence centers in Florida and Malaysia. Our team consists of +100 passionate pioneers from 25 nationalities and through our installed base of printers, we have a truly global presence in North- and Latin America, Europe, the Middle East, Africa, and Asia-Pacific.
ABOUT HTL TECH
Harcourt Technologies Ltd (HTL.tech) is a 3D construction printing (3DCP) technology and service provider in the UK and Ireland.
HTL's vision is to use 3DCP to develop sustainable building solutions, harnessing the benefits of advanced manufacturing technology to provide cheaper, higher quality structures, faster and more reliably, whilst mitigating the environmental impact of the associated construction activities.
HTL's mission is to design, develop and deliver innovative building methodologies and integrated construction solutions for niche and general construction applications. We aim to disrupt the traditional construction sector to expedite the delivery of structures to meet the demands of the current eco-economic and social paradigms.
With our specialist team of engineers, architects and construction technologists and material scientists, we have developed a deployable construction detailing package tailored for 3DCP which is compliant with UK building regulations. In collaboration with CEMEX Global R&D Switzerland, and via our R&D and testing facility in Ireland, we have carried out the necessary testing to facilitate the first European applications of 3D printable concrete in a structural capacity.